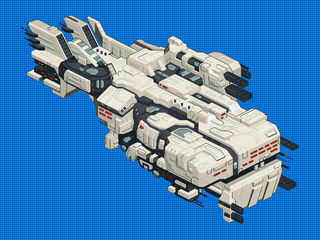 Overview
The Star Command battleship is the most robust vessel in the fleet.  It possesses a powerful Laser Defence System and Shield System as well as teleportation systems capable of deploying boarding squads to enemy vessels.
This type utilizes a sensor network throughout the Sol system capable of tracking any Star Command vessel and each ships energy signature, so it can tell if a Star Command ship fired on other object.
Notable Examples
The flagship of the Star Command fleet, Olympus, commanded by Admiral Micari.
When Admiral Micari defects to the Antorains side, the Olympus was fitted with more powerful shields and was re-painted. The boarding crew the evil Olympus sends on your ship have black suits and helmets.